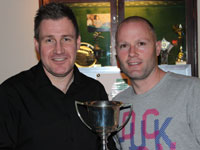 Winner Martin Burrell collecting the trophy from DBSA Chairperson Mark Hird
The 2011/12 Derbyshire Tournament took place Sunday 26th Feb 2012 at Cueball, Derby
The Winner, Martin Burrell received £97.50, The Runner-up Paul Fowell received 58.50.
The format of the tournament was a knockout with a best of 5 frames in each round. The Final was a best of 7 frames.
The highest break of the day was 81, Lee Shanker in the first round.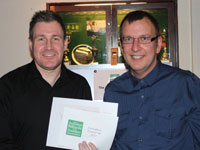 Runner up Paul Fowell collecting the certificate from DBSA Chairperson Mark Hird